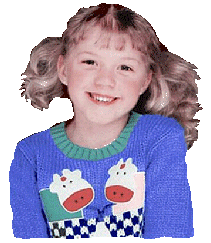 Family and Birth
Jodie Leanne Sweetin was born on January 19, 1982 in Los Angeles, CA. She currently lives with her parents, Sam and Janice in Orange County (I think). She is the only child, but she once said she wished she had a younger brother. She has a pet dog, Lacey. Interestingly, she got her for doing a Sizzler's commercial. Lacey is a Laso Apso.
Hobbies/Likes and School
Jodie enjoys reading, swimming, cycling, and like in Full House, she is also a great dancer. Her favorite movie is "Titanic" which she said that she wished that she played Kate Winslet's role. She is also a big fan of the X-Files. This year she is in 12th grade. When she was little, she skipped Kindergarten. Recently she did her SAT's. She got 670 for Verbal and 530 for Math. Combine them and she got 1200. Pretty good, I guess.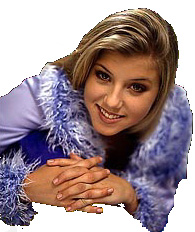 The Show Biz'
Jodie started off doing commercials. She first appeared on an Oscar Mayer ® hot-dog commercial and then did a Sizzlers Commercial. She guest appeared in NBC's "Valerie" (Which was renamed "The Hogan Family" later). Jeff Franklin Productions were impressed with her and immediately chose her to be in their new sitcom, Full House. Full House premiered on ABC in September 22, 1987 and aired on Tuesday night primetime. Jodie once said that she and the Stephanie character were very similar. If there was a line in the script that did not fit her, she would immediately request a change. Full House was cancelled in May 1995, so what's next? She has appeared on TV a couple of times after Full House. One was a guest appearance in Brotherly love, as Lydia Lump. She also appeared in the Kooshlings commercial, in the May 16 TGIF All Star Magic Special, and with the Full House mini-reunion on America's Funniest Home videos on May 9, 1997 (When Bob Saget was still the host). According to a Celebrity Sightings chat, she also said that she did the voice for Sally in the cartoon Movie "Peanuts". While she hopes to continue being an actress, she has said before that she is also hoping to become a singer, doctor, biologist, or teacher. We all hope to see her appear on TV soon.
Full House Poster Book
If you have the Full House poster book, you will recognize this immediately. The book has a section on Jodie and Candace typed the article to the computer. It is basically a biography, but tells in detailed how she got into the Show Business. Pretty interesting, too bad the book seems to have been discontinued however.